From a bustling high street to rambling moorland, Tavistock offers the perfect selection of things to see and do this Summer. Whether you are interesting in walking, shopping, natural beauty or simply a bit of family time, Tavistock is an ideal spot for all of these things! Who says you need to go abroad for an AMAZING holiday?
What Actually Is a 'Staycation'?
A staycation (or also know as a 'Holistay') is an opportunity for individuals and families to enjoy staying in their country and participate in an array of leisurely activities in the surrounding area.
In a year that has been filled with the message to stay at home, this could be the perfect opportunity to enjoy the beauties our own country has to offer and help support the local businesses that rely on tourism in the UK.
So lets take a look at why Tavistock would be a great Staycation:
1. Tavistock Is Part Of An Area Of Outstanding Natural Beauty (AONB)
Tavistock is part of the Tamar Valley Natural Area of Outstanding beauty, which is located on the Devon and Cornwall border. It is a special landscape that is defined by the rivers Tamar, Tavy and Lynher. The area is famous for its mining heritage sites and places that are wildlife hotspots! Tavistock's town centre offers great beauty from its parks and architecture, but is also surrounded by remarkable natural landscapes. There is so much to explore in the town and the areas around it!
2. Fascinating History & Heritage
Not only does Tavistock offers spectacular beauty both in the town and in its surrounding areas, but it is known for its unique heritage. Tavistock is known for its World Heritage status, placing it on a par with international treasures like Machu Picchu, the Taj Mahal and the Great Wall of China. It forms the largest industrial World Heritage Site in the UK, with over 20,000 hectares spread over Cornwall and West Devon. The permanent protection of this countryside is important to people all over the world and why the area has been given World Heritage Status. With its strong mining history, Tavistock is now considered a Stannary Town. King Edward 1's Stannary Charter in 1305 established Tavistock as an important location for weighing and stamping tin, which was exported in large volumes to Europe.
It is this rich history that makes Tavistock such a fascinating and beautiful place to visit, with its 19th century architecture and its protected surrounding beauty.
If you would like to know a little bit more about its heritage, check out the Tavistock Heritage Trust.
3. Located On The Edge of Dartmoor
Whether you fancy an easy stroll up to Whitchurch Down or an adventure into the heart of the moorland, Tavistock is the ideal central spot for all of your staycation discoveries. Dartmoor is a spectacular area of natural beauty, from its unique tors to its wild ponies. The summer is the perfect time to venture out to some of its famous rivers that run through it, offering the perfect day out for wild swimming and picnics in the sunshine. If you are also into getting involved in activities, Dartmoor is a great spot for Horse Riding, with a selection of riding stables, one being Cholwell Stables in Mary Tavy.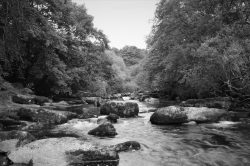 Dartmoor is truly a one of a kind spot, offering picturesque views, intriguing history and memorable days out that the whole family will love. And even better? You can do it as a day trip and easily come back to Tavistock as a central and convent staycation base.
4. Plenty of Great Places To Stay
We get that camping isn't for everyone, much like a hotel might not be someones first choice. But Tavistock has got your covered! There are an abundance of beautiful and charismatic ways to stay in the town and close surrounding areas, including friendly camp sites surrounded by nature and historic hotels in the heart of the town. Tavistock also hosts a collection of quaint, yet stylish B&B's and self-catering accommodation.
5. Surrounded By Fun Day Trip Options
Tavistock is a great home base for day trips and is surrounded by beautiful spots that should be on your 'must see' list! Whether you are looking to dip your toes in the sea at some of Devon's finest beaches, or looking for a mooch through breathtaking woodlands, Tavistock provides easy access in less than an hours drive. Here are some recommendations:
Widmouth Bay and Bude Beach
Crackington Haven
Bellever Woods, Dartmoor
Brentor Church
Burrator Reservoir
Lydford Gorge National Trust
These are just a few of MANY! These are all quite different choices of locations, but that is the beauty of Tavistock. Each day of your Staycation will be unique and easily accessible.
6. A Delicious Array of Unique Eateries
Tavistock is so lucky to have such an eclectic range of pubs, restaurants and cafes (see full list here). On Market Street you will find one of the countries top 50 Gastro Pubs, The Cornish Arms. There is also plenty of delicacy types, including tapas, Italian, Mediterranean and British. Over Lockdown, there has also been an expansion of outdoor eating venues! You will now find some of Tavistock's favourite eateries offer beautiful outside spaces to enjoy a meal and a drink (or two!). Check out our blog on '5 Great Alfresco Eating Spots In Tavistock'.
Or if you fancy just a picnic in The Meadows, in the town square or to take with you on your day adventures, there is a wide selection of takeaways and local produce businesses. A picnic has never looked so delicious!
These are just a few of the many reasons why Tavistock is your perfect Staycation this Summer. It offers endless opportunities to enjoy local businesses, activities and spectacular natural beauty.