Dartmoor Preservation Association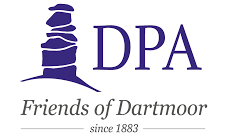 We are an independent member organisation working to protect and conserve Dartmoor. The Dartmoor Preservation Association was founded in 1883 amid concerns that enclosure of Dartmoor was threatening to extinguish the ancient rights of commoners on Dartmoor.
Today we work across Dartmoor, conducting conservation projects such as habitat management and archaeological site maintenance. We own land on Dartmoor, which we have purchased either to save from inappropriate development or as part of a wider management plan to support the area in a targeted way. We work on a variety of different conservation projects, from butterfly conservation to scrub clearance, in many locations across the moor. Our team of volunteers have successfully managed to reverse native wildflower species decline in traditional hay meadows and to remove various archaeological features of the moor from the 'at risk' register.
We campaign for issues such as planning vigilance, access rights and preservation of our shared cultural heritage. We are enthusiastic about sharing this heritage with the world and maintaining it for future generations. We work with many different partners across Dartmoor, in conservation and campaigning, to make sure our voice as 'friends of Dartmoor' is representative of the best interests of the many people who enjoy it.
We welcome new members. Annual membership is priced at £20 per year for single membership or £30 per year for families. As an independent charity we rely on the money from memberships and donations to continue our work. In return for becoming a member you will receive a welcome pack plus a quarterly subscription to our magazine, Dartmoor Matters, along with quarterly updates on our walks and events programme. You can find out more about membership and what we do at www.dartmoorpreservation.co.uk
Image credits: Brad Roach