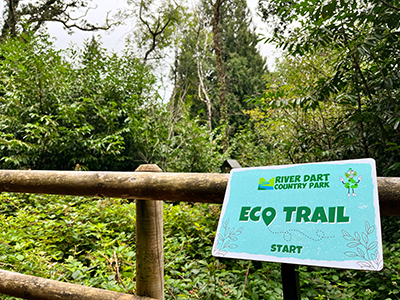 Popular visitor attraction and campsite River Dart Country Park in Ashburton, Devon, have introduced a brand-new Eco Trail activity. The activity showcases all the positive environmental work the attraction performs, with a fun, interactive, and family-friendly approach.
The Eco Trail is a free activity available on the River Dart Country Park app using a smart device, alternatively, it can also be done without.
While visiting, users can venture around the beautiful site in search of Eco Trail boards, with each location revealing fun facts, videos, and environmental aspects unique to that spot.
The Eco Trail is the perfect way to find out more about River Dart Country Park's eco-tourism achievements and learn about their hydro-dynamic screw (the first in the UK), solar pv scheme, electric vehicle charging, and much more.
"We are very proud of our new Eco Trail. This free activity showcases all the hard work we put into being sustainable here at the River Dart Country Park!"
Roger Sell, General Manager – River Dart Country Park
Back in 2019, River Dart Country Park was awarded the ethical, responsible & sustainable tourism award, and the special award for energy efficiency at the Visit Devon Awards.
Learn more at www.riverdart.co.uk