Its cold and dark outside but I am sat here in my cosy little cottage in the middle of the moors thinking about what the new year shall bring. While my log burner keeps us warm and as the new year is fast approaching, I am thinking about yet another blissful year ahead in Dartmoor National Park.
Here is my guide to Dartmoor month by month
January
Yes, it may be in the depths of winter but January certainly gets a feature here! For those of you who have followed my blog or followed me on social media, you will know I am a great fan of a wintery walk and a long evening in front of a well stocked log burner, and not to mention a nice glass of wine and a cheese board. January can feel like a long stretch, but Dartmoor is special. Winter walking on Dartmoor can be marvelous. The bracken is down, and the Tors are still here as captivating as ever. I like to get out for some short walks and January is the month I like to get some trail running in of which there are more options to exercise on the moor that you can shake a stick at! If you are starting a new health and fitness regime, or just want to break January up a bit, why not book yourself a long weekend for winter walking, relaxed cosy evenings, and a new area to explore.
February
Romantic weekend getaway anyone? We have some amazing pubs locally and around Dartmoor so you will be spoilt for choice in terms of treating yourselves (or someone special) to a lovely meal out on a certain day in February, then checking into a beautiful romantic cottage on the edge of the moors. Hint- hint, nudge- nudge!
Walking on Dartmoor can take a rather interesting turn in February. This is when Swaling is usually carried out on parts of the moor. Swaling is a controlled burn of small arears of moorland where the invasive gorse needs controlling so the area of moor can give way to grass, wildflowers and habitat. The smoky smell lingers in the cool air and new life grows from the charred arears of the moor with great speed. It's a sign that Spring is only round the corner, as birds will be nesting soon, so all swaling will stop by the end of March.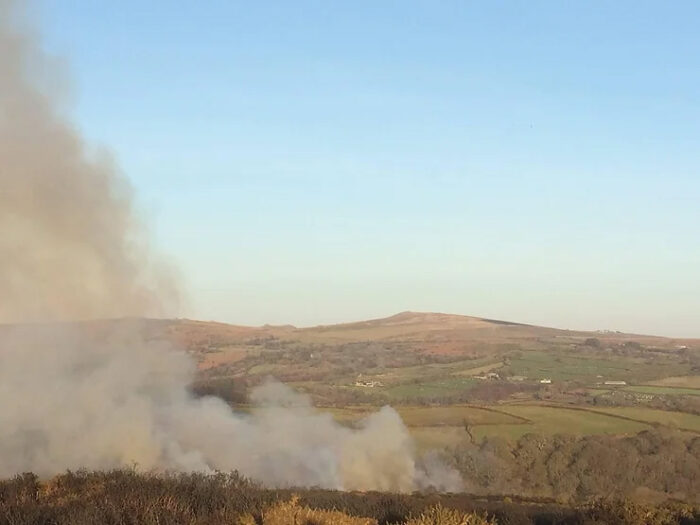 March
Ah welcome March! Spring time is on the cusp of starting. The days are getting longer, and the weather is generally much better. Its still cool up here on the moors, which means its excellent for hiking, cycling or running. With good weather, days can be long and sunny. In March, we start to hear the unmistakable song of the Skylarks which I think sing the theme tune to spring time on Dartmoor. Towards the end of March I always look forward to spotting the first of the moorland wildflowers, the little violets that pop up on sunny banks. The little dash of purple is the signal that spring is about to burst into life. And that's not the only sign of spring you will find on the moors, tiny new born lambs start to appear with their mothers scattered over Dartmooor and this means my walks on the moor become much slower because I always need to stop and watch them. In March and April, you tend to find yourself saying ' Awwww' A LOT! In short, March and April are beautiful months on Dartmoor, and for me are just glorious for walking on the moors and in the valleys.
April
Pretty little Wood Anemone start to appear on woodland valley walks, but that's not all that start to appear! Spring is springing and its now time to keep a look out for the first new born foals on the moor. There is much more saying ' Awww' at every turn in April and there is something so lovely about observing people pull their car into a car park so they can just quietly watch a Dartmoor pony and her foal from a distance and enjoying the sound of Skylarks overhead. March and April are months where we see a lot of new life of the moor, and there is much more to come! From here on in it seems that new life is everywhere. Dartmoor is growing fast and sky is now full of the sound of chattering house martins and swallows who have arrived here for nesting season. Wander into a Dartmoor village and nests will be being built in cottage eves and on the natural ledged formed from building with granite.
I asked a friend when they thought they generally herd the first Cuckoo up here on the moors. The answer surprised and delighted me- it was a very specific 17th April. This date is now in my dairy and I shall be looking forward to seeing if the first song of a Cuckoo is indeed on the 17th April. Its an iconic sound on the moors, and spotting one is magical too, I normally see them early in the morning or late afternoon.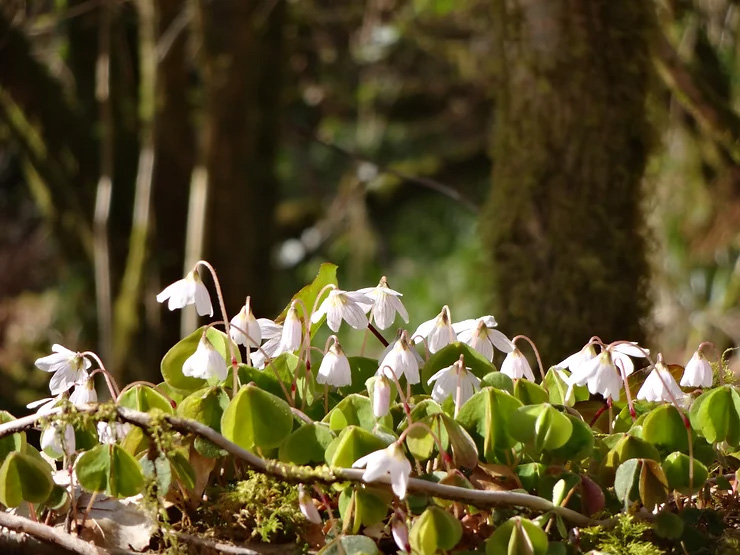 May
The yellow spring time gorse is in showstopping flower. Did you know that the gorse flowers in spring smell of coconut? After a warm day in the sunshine, it smells like someone has been dousing themselves in sun cream when you walk past a gorse bush! The Hawthorn blossom puts on quite a show in May too. Wildflowers are now everywhere. Milk maids, yellow poppies, bluebells, bilberry flowers, wild orchids and the list goes on. Days are long, warm and sunny and the moors are alive with life. I find May a perfect month for long hikes over the moors, through wildflower meadows and along gentle rivers. And if that wasn't enough outdoor time, I find myself firing up the BBQ and eating dinner outdoors too! Dartmoor in May is magical!
June
Mid summers day is now approaching and long balmy days on the moor seem endless. With long bright evenings, short evening walks to watch the sunset become a daily joy. Life on the moor seems abundant. The lambs are bigger and so are the foals. There are more shades of green than you can count with the upland moorland growing at a rate of knots while the valleys are teeming with green leaves, mossy rocks and bubbling rivers with the odd small fresh water trout swimming past.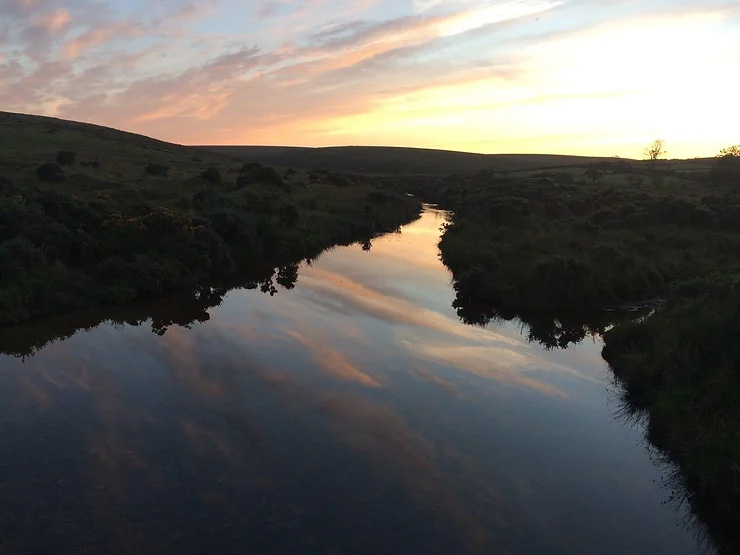 July
Dartmoor is a brilliant place to stay for a summer holiday because while Dartmoor is spectacular in its own right, Dartmoor National Park is perfectly placed in mid Devon and it is really is not far to go in search of a beautiful beach on either the north or south coat. There is something for everyone in Devon and Cornwall. A day trip out from the moor could take you to the impressive Tintagel Castle on the North Coast, surfing on a Cornish beach, visiting the Eden Project or exploring the majestic river Dart and Dartmouth town to only name a few on a long list of places to explore.
August
August is a month we see a lot of families on the moor. There is something really special about seeing people enjoying the outdoors and particularly the magic places Dartmoor has to offer, such as Dartmeet Clapper Bridge, the Merrivale Stone Rows and of course Dartmoor's iconic tors! There is a new busyness and bustle around Dartmoor, its school holidays and its time for a family expedition out onto the moors with a well earnt cream tea in a lovely café. Cream first then jam!
September
For walkers, there is no better time to come to Dartmoor to see the heather than throughout September. Bell and Ling heather, along with the autumn flowering yellow gorse create a purple and yellow carpet over large arears of the moor adding a cheerful splash of colour. It is getting cooler in September, but the weather generally stays really rather lovely.
October
October is a busy time on the moor. While the weather is turning cooler and the days are starting to get shorter, its time for the Pony Drift to round up the Dartmoor Ponies for the pony sale at Chagford. Like September, October is excellent for hiking and exploring. The busy holiday season is over but Dartmoor is still ready to welcome guests. I normally start to think about when I can light the log burner and the pubs are a great place for to unwind and enjoy a good meal as the weather turns colder.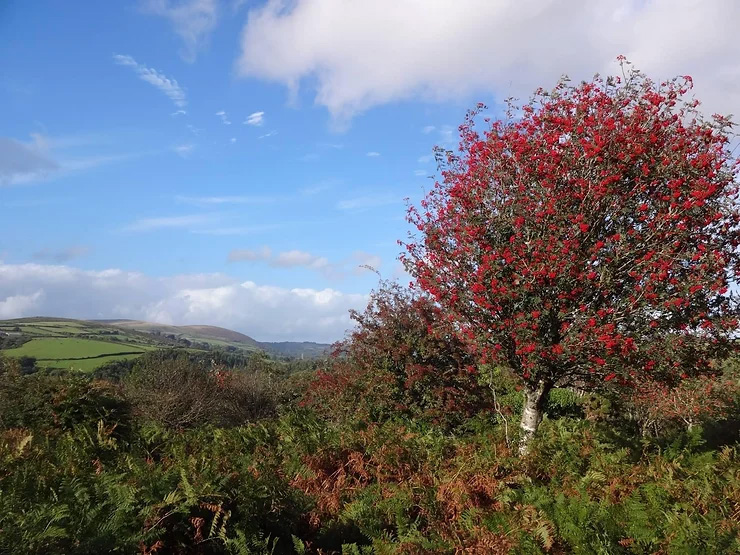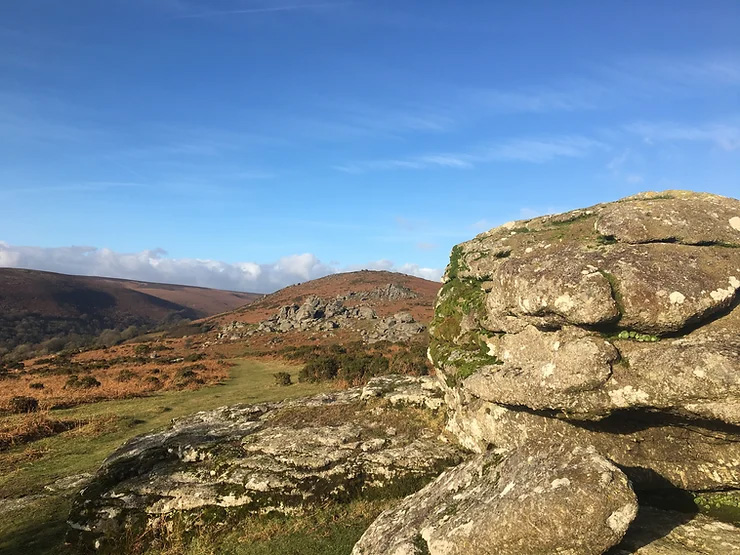 November
Poor old November always seems like a little bit of a left-out month to me. Its autumn but Christmas is on the horizon so November I feel, can sometimes be overlooked. Autumn in Dartmoor National Park is beautiful. Yes, in can get cold and wet, and sometimes very wet; but the autumn leaves on the trees and the golden bracken on the moor dramatically change the vista. I adore autumn on the moor. The changing months offer up changing colour, excellent walking, and long cosy evenings in by the fire. Its time for me to pick up my needle felting or wool spinning, or a good book and start to slow the pace of life down in front of the warm glow of a fire.
December
While December may be the month with he shortest day of the year in it, cold, wet and dark; its also a fantastic place to be in the run up for Christmas. Many of our local attractions have special Christmas events on such as the garden lights at Saltram House. Rainy and snowy days mean slow cosy days in. But we can also get some lovely weather on the moors in December and exploring the moors is a great fun in December as it is in summer. For me the dramatic weather adds to the fun. Christmas on Dartmoor is so special, so peaceful and an adventure is just on your doorstep.
I can not tell you how much I have enjoyed writing this blog post. Speaking about 2022 on Dartmoor with my husband and reminiscing about when the house martins moved in next to our bedroom window, when the yellow poppies appear and remembering those glorious changing months through the year in Dartmoor National Park.
You may have noticed, I love to talk about Dartmoor. If you have any questions about booking The Old Railway Cottage and your stay in Dartmoor National Park, please do get in touch.
Enjoy the adventure
07807809329