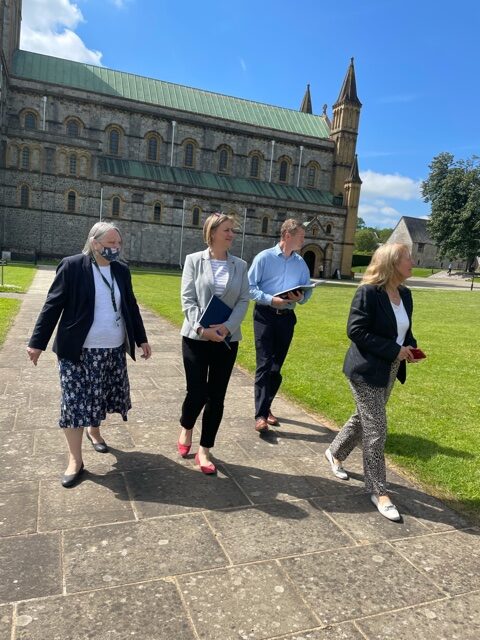 Exeter-based Absolute PR and Marketing has been appointed to provide strategic PR and marketing consultancy support to Buckfast Abbey in South Devon, as part of its service to Native Multimedia, the Abbey's incumbent digital design, film and photography agency.
Home to a community of Benedictine Monks, the Abbey is a popular tourist attraction for visitors to South Devon, and has exciting plans to raise its profile regionally, nationally and internationally.
Appointed by and working in partnership with Native Multimedia, which leads on all the Abbey's internal and external marketing activities, Absolute has been tasked with developing and delivering a tailored programme of media relations and strategic campaign planning that will further enhance the Abbey's reputation.
Using its unique blend of traditional and digital skills, Absolute is working with Native Multimedia to implement a programme of activity that will build awareness about Buckfast Abbey as a community of monks, a living monastery and a historic site that is a place of beauty, tranquillity, peace and contemplation, as well as a centre of culture and the arts in the South West.
Commenting on the new appointment, Absolute PR and Marketing's Managing Director, Rachael Whitson, said, "With the welcome return of events and a thriving leisure and tourism sector, our work with Buckfast Abbey has come at a really exciting time. We are delighted to be working with Native Multimedia in support of such an important centre for the Roman Catholic faith, a key tourist attraction, and a renowned place of worship known for its liturgy."
As well as being home to the community of monks, Buckfast Abbey is a popular free tourist attraction where visitors come to appreciate the calm atmosphere of its gardens; the stunning architecture and artwork of the Abbey Church and recitals of choral and organ music by internationally renowned choirs and organists.
The Abbey welcomes hundreds of thousands of visitors each year who come to enjoy the Abbey's grounds, or for a guided retreat. Many stay in the on-site hotel and self-catering facilities. Others utilise the on-site conference facilities, or attend a variety of events, classes and tours, taking the opportunity to purchase items produced by the Abbey and monasteries all over the world, ranging from gifts, cards and books, to food and drink.
Carol Davies, Director at Native Multimedia, commented, "Having previously worked with the team at Absolute, we knew their track record well and their impressive portfolio of work. That was important as we were looking for an agency that complemented our specialist services, offering a blend of digital and traditional PR, as well as marketing solutions that would fit seamlessly into our offer. Absolute impressed both us and the senior leadership team at the Abbey, and have fitted in perfectly, enabling us to deliver a total service to the Monastery."
Matt Roach, Chief Operating Officer at Buckfast Abbey, said, "As an established, and much-loved destination in the heart of the South West, we have a great deal to offer and share with guests on site. Our activity is rich and diverse, which is why we wanted to work with the team at Absolute to help us convey the wide range of religious and secular events that take place on site. 
 
"Ranging from our annual Christmas market to our Take 5 education festival, our newly launched conference hall as part of the conference centre facilities, to our works to enhance the natural environment, we have so much to celebrate and share." 
Specialising in a blend of digital and traditional public relations and marketing communications, Absolute PR and Marketing builds brands with purpose with a strong portfolio of b2b and b2c clients across the UK in the leisure and tourism, property, health, food and drink, manufacturing, tech, recycling and waste management sectors.
For more information on Absolute PR and Marketing, visit: www.absoluteprandmarketing.com