An immersive installation by SPIKED print collective 1st July–26th August 2023
Alone Together is an exhibition about the nature of aloneness from isolation to solitude. The exhibition is an immersive, hanging print installation that explores the range of emotions surrounding aloneness. It opens 1st July at MAKE Southwest in Bovey Tracey and runs until 26th August 2023.
The exhibition is the work of the artist collective, SPIKED, which comprises Leonie Bradley, Jess Bugler, and Prerna Chandiramani, who started working together in lockdown, and through their shared anxiety began to consider aloneness as a spectrum with isolation at one end and solitude at the other. While isolation is something imposed upon us, solitude is a positive state of aloneness that many choose to seek out.
'When we came together as a group, we analysed the words associated with aloneness and agreed on a set of seven that became the foundation of our bodies of work', said Bradley. 'These were: isolation, loneliness, alienation, disconnection, remoteness, seclusion, and solitude.'
Each artist responds differently to the emotions along the spectrum. Their responses are interwoven but individual:
Bugler uses the theme of wooded enclosures; Bradley, the symbolism of keys; and Chandiramani, language and folding. The installation itself forms a curved line with the artworks creating an enclosure that can be entered and viewed from inside. The solitude end of the spectrum is wide and inviting, the isolation end tightly wound and claustrophobic.
sell outstanding maker-member crafts through its retail gallery.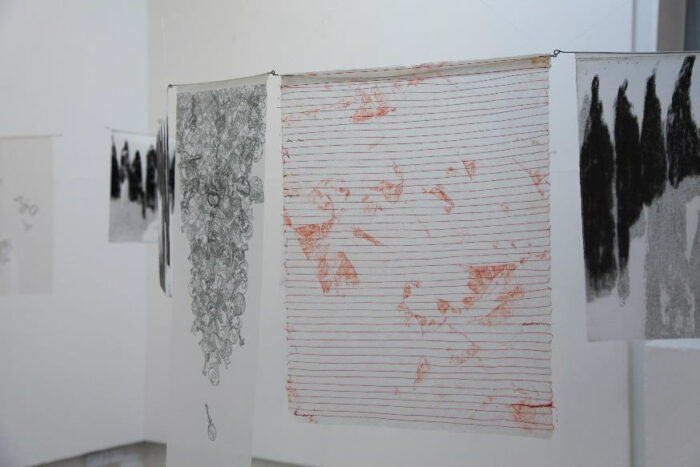 'The artworks are printed onto translucent material, evoking the fragility of individual experience, whilst allowing the viewer to see through the multiple layers reminding the viewer of the commonality we share', said Chandiramani.
The exhibition will also provide visitors with an opportunity for reflection on our shared yet unique experiences of being alone during lockdown, by participating in the creation of a new artwork which will be displayed at a future venue. This project is supported using public funding by the National Lottery through Arts Council England. The artists involved are running workshops with local schools as well as holding an all-day print festival at MAKE Southwest on Saturday 1st July with demos and sign-up taster sessions. Please see makesouthwest.org.uk for more information. 'It is the ambivalence of aloneness, central to our human condition, which I have found absorbing and challenging as this project has progressed', said Bugler.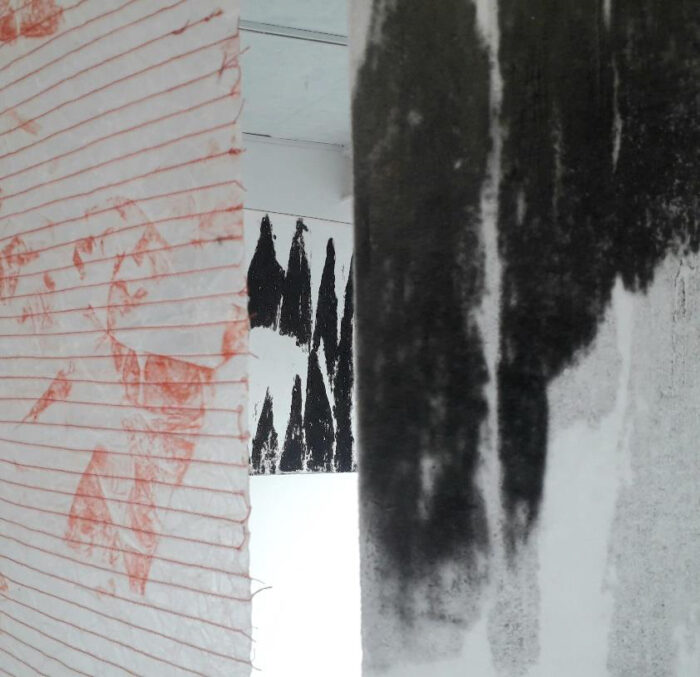 SPIKED is an artists' collective creating installations to explore communication and memory. The artists have each been awarded the Peter Reddick Bursary for Innovation in Relief Printmaking at Spike Print Studio, Bristol. Leonie Bradley is a member of the Royal Society of Painter-Printmakers. Jess Bugler was recently elected to the Royal Cambrian Academy, and Prerna Chandiramani is a member of Printmakers' Council.
Instagram:
@spiked_3
@jessbugler1678
@prerna_printmaker
@leonie_bradley

ABOUT MAKE SOUTHWEST 
Southwest is a craft education charity funded by Arts Council England, based in Bovey Tracey, Devon. The organisation has a thriving membership and a programme of events and exhibitions showcasing national and international artists and makers, which attracts over 160,000 visitors each year. Under its former title as the Devon Guild of Craftsmen, the charity has a long history of upholding the highest standards of craftsmanship and design since 1955, and is now a leading advocate for a dynamic and diverse craft culture in the Southwest of England. The Membership currently has 220 Full and 35 Associate Maker-Members, as well as a Graduate Membership scheme to support makers at a very early stage in their careers.
Thanks to public funding for the arts, in particular from Arts Council England, the charity has become a major public exhibition venue showcasing the best craftwork in the region, developing greater public engagement with craft, and an even stronger reputation and membership across the Southwest, and nationally, while continuing to sell outstanding maker-member crafts through its retail gallery. makesouthwest.org.uk