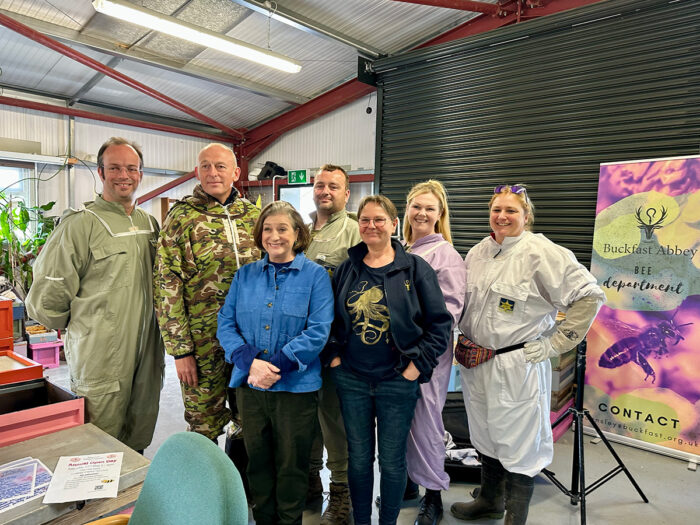 Buckfast 25 September – In a thrilling turn of events that had history buffs and television enthusiasts eagerly awaiting, Buckfast Abbey, a cherished landmark steeped in history, took center stage in the much-anticipated television series, The UK's National Parks with Caroline Quentin, which aired on Monday. Viewers across the nation tuned in to witness this captivating fusion of nature, history and entertainment.
The producers of The UK's National Parks with Caroline Quentin chose Buckfast Abbey as a key location, recognising its immense historical significance and its location on the southern slopes of Dartmoor National Park. With a history spanning over a millennium, Buckfast Abbey is a treasure trove of stories some of them brought to life during the programme when Caroline chatted to Abbot David Charlesworth OSB, the Abbot of Buckfast.
"We were thrilled to showcase Buckfast Abbey on our series, 'The UK's National Parks with Caroline Quentin'" said Sohail Shah, MD of King of Sunshine Productions, the production company behind the show. "This location is not only visually stunning, but also carries a profound historical legacy that perfectly encapsulated the theme of our Structures, Sites and Souvenirs episode. It's a place where the past comes alive as it is an active working monastery, and we were privileged to feature it as the opening to the show."
The collaboration between Buckfast Abbey and The UK's National Parks with Caroline Quentin proved to be a mutually beneficial partnership. "We saw this collaboration as a perfect opportunity to showcase what we have to offer, as well as the surrounding countryside," noted Philip Arkwright CEO, Buckfast Abbey. "By participating in this television series, we hoped to inspire others to visit  Buckfast Abbey and Dartmoor to experience their beauty for themselves."
The UK's National Parks with Caroline Quentin aired its premiere episode last week to widespread acclaim, with viewers and critics alike praising the show's connection to nature and captivating storytelling. Fans of history, nature and television can catch up on the series by visiting the official More4 website or streaming it on Channel4, it's actually on again  this Saturday at 6.55pm on More4.
Buckfast Abbey is conveniently located midway between Exeter and Plymouth, just off the A38. Home to a community of Benedictine monks, the Abbey offers a unique, tranquil ambience, and is open seven days a week to the public. For more information on Buckfast Abbey visit www.buckfast.org.uk.