Looking back over last year's photos of autumn it would appear we had a fabulous time playing in the golden sunshine, rolling in crisp, dry leaves and generally enjoying the season without coats. This year the seasons seem to have just merged, with weeks of endless rain and cloud. The summer ended and there was a sense of dread that we would soon be confined to the house, not the best prospect with two small children who are used to freedom.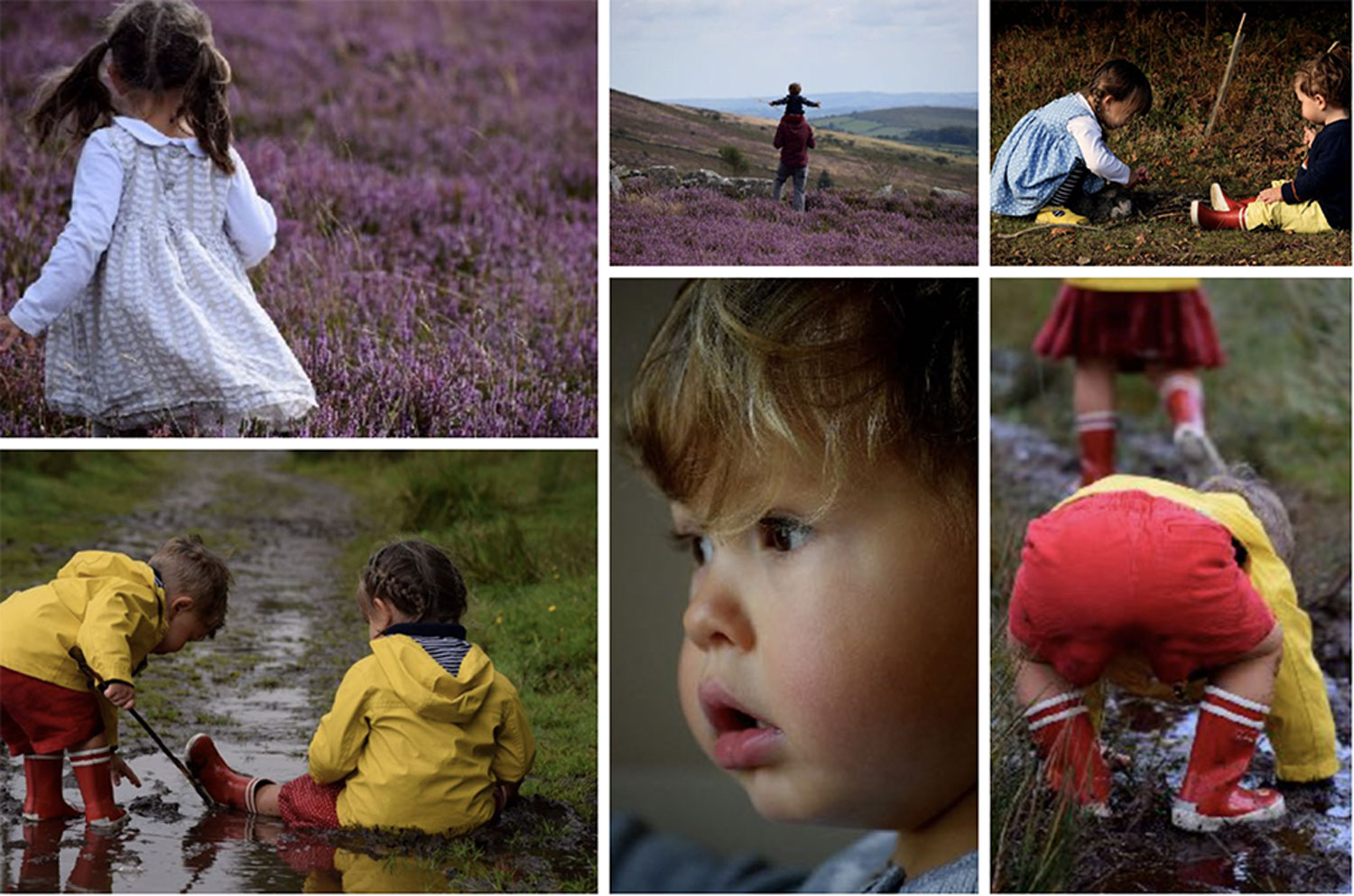 Instead of being stuck inside we have embraced the weather, spending mornings at the table beside the window doing activities whilst watching for a shift in the clouds and darting out to make the most of a brief dry moment.
We have discovered some stunning places that we didn't realise existed on Dartmoor and finally visited places that we had driven through numerous times and dismissed them as too 'touristy'.
Quite possibly the most beautiful place we found was a walled meadow of heather. The little ones were utterly fascinated by the amount of bees buzzing around, Betty spent much of her time following them around talking to them, whilst Barnaby was rather keen on trying to hold one and stroke it. I sat with my camera completely amazed at the beauty of the scene with the miles of fabulous moorland spread beyond the little purple meadow. Heather always marks the end of the summer and the beginning of the autumn. This patch of heather felt like summer's final, beautiful kiss.
Within weeks the purple sea was gone, the beautiful greens had faded and everywhere had turned a golden brown. One particularly wet day we braved an outing to Postbridge, one of the places I felt was too 'touristy'! Postbridge is a place we drive through to get somewhere else, and whilst it's always looked rather pretty, the old clapper bridge seems to constantly have people wandering over it taking photos. Nevertheless, it's just down the road from us and we were keen to have an adventure somewhere reasonably close by.
It was relatively busy when we arrived, with people taking the obligatory photos on the bridge. Our adventure, however, took us away from the bridge and onto such a fun walk. Luckily we were all in wellies…it was so muddy! Betty and Barnaby had a fabulous time, the puddles were knee deep and at times doubled up as a swimming pool for them to wallow in. The rain decided to make an appearance when we were at the furthest point away from the car but it just added to their fun.
This last week seems to have brought a return to the crisp leaves and golden sunshine of last year. And with fewer puddles to get drenched in, they have been keen to build things outdoors using the many sticks and leaves lying around. A particular favourite has been making 'campfires' and toasting pretend marshmallows (leaves or acorns threaded onto sticks).
Whilst autumn isn't summer, these beautiful golden days really are wonderful and make me long for just a little bit more autumn before the cold sets in.
By Hannah Reeves – www.blossomandbunting.co.uk