I've spent countless hours training 3yr old Maisie and 2yr old Rosie to ignore or avoid sheep, right from when they were 10 weeks old. Living on the open moor I really have to be sure of them.
Last weekend they did something quite amazing though, and effectively saved the life of a well grown lamb which was tangled so badly in brambles that it had become immobile and was close to giving up on life. I didn't see it and wouldn't have walked past where it was held fast but Maisie suddenly ran back to me acting very agitated and did a great impersonation of Lassie running back and forth to get me to follow her!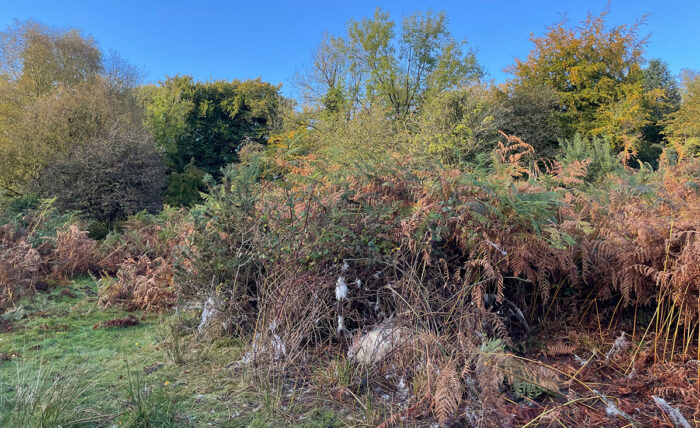 Winding through the swathes of bracken and brambles I found Rosie stock still and staring from a distance at what seemed to be a pile of dirty fleece with trampled mud and tufts of wool surrounding it. I've seen many dead sheep on the moor and this appeared to be another one, until it slowly lifted its head and looked at me.
There was absolutely no chance of me being able to free it, so I took some photographs and contacted Karla McKechnie at Dartmoor Livestock Protection and sent her the location using the What3Words app on my phone. Normally I'd make a note of any markings on the sheep, but it was in such a position that I couldn't actually see any. I had to walk back to my house to send the information though, no signal where the lamb was!
About an hour later I was very happy to receive a message back from Karla that she'd contacted the farmer who had found and freed the lamb, and that all was well.
I was left with a huge feeling of relief, that lamb would surely have died a slow and horrible death had Maisie not alerted me to follow her. I'm so proud of my two young dogs who didn't put a paw wrong, and also so grateful to Karla who always responds quickly and efficiently whenever I need to report any livestock in trouble.
My three takeaways from this experience…
Train your dogs to behave impeccably around livestock.
Make sure you have the number for Dartmoor Livestock Protection on your mobile phone.
Download the What3Words app on your phone.
Dartmoor Livestock Protection Society – www.dlps.org.uk
Phone – 07873 587561
Livestock Protection Officer and Call-out
The Dartmoor Livestock Protection Society (jointly with the Dartmoor Commoners' Council) funds the work of the Livestock Protection Officer, Karla McKechnie, who is on emergency call-out to deal with incidents of sheep worrying, dog attacks, casualties from road traffic accidents and livestock in distress on Dartmoor.