Dartmoor has been a haven for artists for hundreds of years. There is such variety in the landscape, from the granite tors, to the stark moorland, the wooded valleys and the ancient clapper bridges. You just need to look to the incredible watercolour paintings of John Christian to see how the changing weather and stunning scenery can inspire the most beautiful pictures. So where can you go to paint some of Dartmoor's classic features?
The Dartmoor ponies
The registered Dartmoor ponies were established in the 1800s by mixing Welsh and Arab blood into the existing Dartmoor Hill ponies in order to create children's riding ponies. This is why they are generally short in stature.They are the perfect subject for a painting, but don't forget that they should not be disturbed. You are fine to paint them in their natural habitat though, they will also compliment your landscape pictures, and draw the eye in. There are plenty of places that you can see them, particularly on the road into Princetown. There are a large group of them too at Belstone on the north moors. Early morning autumn in the mist is one of the best times to capture their beauty.
Beautiful granite tors
Many people visit Dartmoor to see the tors, formed 280 million years ago from granite. Situated right in the heart of Dartmoor is Bellever Tor, directly overlooking the moody Bellever Forest. It is situated very near Postbridge. One of the wonderful things about drawing this tor, is the sculptural placing of the rocks. Whether you're drawing in pencil, or pen and ink you can capture the incredible texture of the landscape. If you want to paint in peace and quiet, avoid the high summer though – or alternatively go early or late in the day, and you can capture the incredible sunrise and sunset over the moor.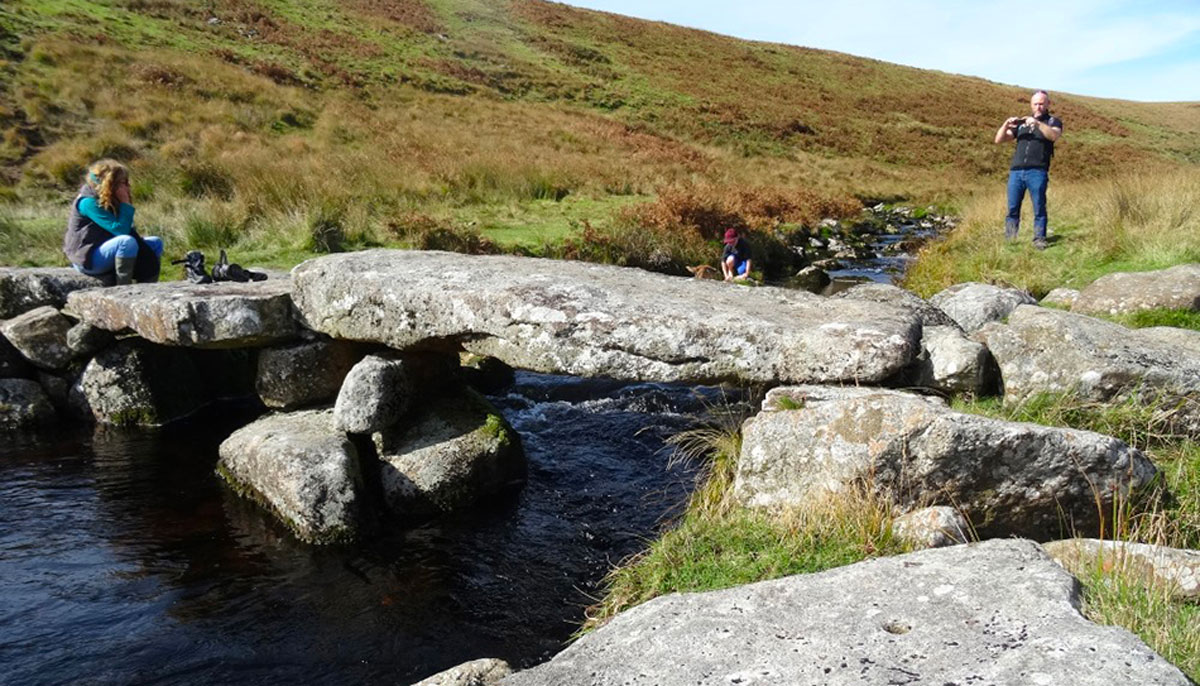 Megalithic Clapper Bridge
The simple clapper bridges consist of slabs of stone laid across a stream to incredible multi-slab complex constructions with piers, over the larger rivers. There are around 200 clapper bridges in Dartmoor, however many more no longer exist. One of the most iconic bridges is Huntingdon clapper bridge, which goes over the River Avon, to the north of the Avon Dam. It would make the subject of a stunning painting. Whether you are painting in acrylic or watercolour, you will have to move quickly though, as the light changes fast across the open skies around.
Even for a first time painter, Dartmoor can't fail to inspire you to put brush to canvas. The natural beauty of the area covers every shade, from granite grey, to the deep, red sunsets over the tors.