Thousands of years ago humans evolved as long-distance cooperative hunters and have had a long and fruitful association with their canine friends who probably assisted with the hunt in exchange for free food. I found this relationship to be alive and well when I was met, unexpectedly, by a group of runners and their dogs setting off on what for all the world looked like a night-time hunt.
The flashing of illuminated collars of the canines and the head torches of the runners among the trees rivalled any Christmas illumination show. They stopped to tell me that they were a group of Canicross runners who meet regularly for great outings for human and pet alike.
Although I had my golden retriever, Fauna, with me, I was set to meet up with another group of runners organised by Colin Kirk-Potter. Colin is a qualified mountain leader and has massive experience in long-distance running competing in mountain marathons and enjoying endurance running over difficult terrain.
We all gathered in the Beech Cafe amidst a buzz of excitement both from humans and dogs for all these runs are dog-friendly. And what a mixture of both there was! The human runners represented all ranges of ability; some were experienced long-distance runners whilst others like me were just there to have a bit of fun. Colin divided us up into three groups to ensure that everyone was running with others of a similar capability. I chose to run with Sarah's group and off we set.
The night was warm but with a very light drizzle which formed drops on tree branches that glistened in the lights of our head torches. That together with the sound of the owls overhead made for an experience unlike any daytime run. Sarah, although she was relatively new as a running leader, looked after us as well as any shepherd. She ensured that we all kept together whilst at the same time running as fast as we liked. Now that does seem impossible to achieve but the trick was to allow us to run on to an easily identified waypoint and then run back to be reunited with the group. No one was allowed to get lost; we were counted at every waypoint. Sarah has never lost a runner yet!
I fell to wondering why it was that running was so enjoyable even in the dark and wet. Has anyone heard of 'runner's euphoria'? It's that feeling of exhilaration which grips long-distance runners and which (and this is only my theory) evolved in our ancestors keep them going long enough and fast enough to be successful in the hunt. We were indeed successful, in our hunt as back in the cafe we encountered our quarry; home-made cakes and other goodies to replace the energy that we had put into having a great time.
To sum up; it was nothing to do with competition or personal best times; at was all about the pure enjoyment of running.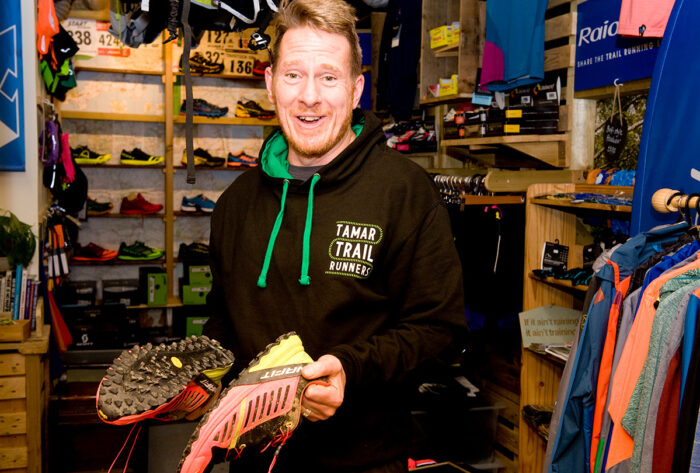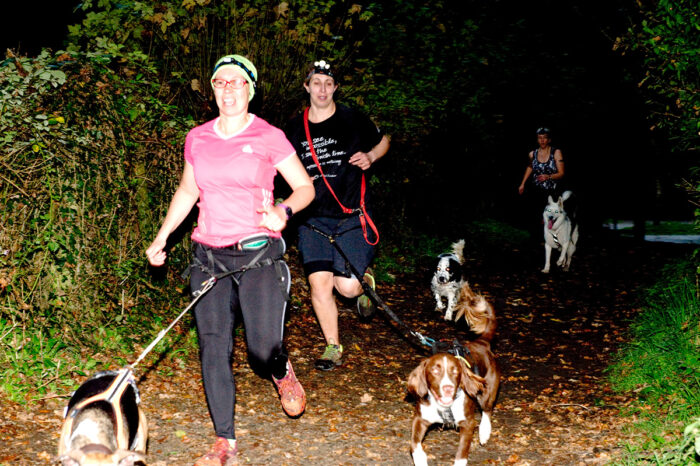 Now for a bit of detail for those who would like to take part.
The Run Venture Trail Running Hub is the South West's first and only bespoke trail running centre, complete with 25km of way-marked runnable trails for all standards and abilities, Run Venture has its very own trail running shop and cafe.
Colin Kirk-Potter, who is the director of Run Venture, has all the experience needed to ensure your running is as informative, enjoyable and safe as can be. He has competed in many of the top fell races, including the self-navigating UK Mountain Trail in the Lake District, two Bob Graham rounds, the 105-mile Ultra Trail Du Mont Blanc in Europe and numerous Mountain Marathons which involve running and navigating in remote areas over several days.
He has an in-depth knowledge of Dartmoor as a runner, walker and as a Royal Marine instructor.
For anyone who would like to experience running on Dartmoor with a difference, Colin provides guided runs including training in navigation-on-the-run or any other training needed; this is a truly bespoke running service.
Visit the website: www.runventureonline.com
If you and your four-footed friend would like to join a Canicross event, then their website is worth a visit: www.canicross.org.uk
Words and pictures by David Guiterman